20 Apr 2019 Sat. - Màgia Roja, Barcelona, Spain
27 Apr 2019 Sat. - "Après L'orage 嵐の後に" Montpellier, France
28 Apr 2019 Sun. - Social Music Club, Montpellier, France with Leiya
29 Apr 2019 Sun. - Montpellier, France with Leiya
1 May 2019 Wed. - ″DAF Festival″ La Réliure, Geneva, Switzerland *
2 May 2019 Thu. - Humbug, Basel, Switzerland *
3 May 2019 Fri. - AKK, Karlsruhe, Germany *
4 May 2019 Sat. - Stadtlabor, Bremen, Germany *
5 May 2019 Sun. - Die Schute, Hamburg, Germany *
6 May 2019 Mon. - INM, Frankfurt, Germany *
9 May 2019 Thu. - Club Wakuum, Graz, Austria *
10 May 2019 Fri. - "Psychoakustische Konditionierung XIV" Club Debil, Dresden, Germany *
11 May 2019 Sat. - "Ömschen Kerm #B1" West Germany, Berlin, Germany *
12 May 2019 Sun. - Djäzz Jazzkeller, Duisburg, Germany *
17 May 2019 Fri. – Mix'Art Myrys, Toulouse, France
18 May 2019 Sat. – Asile 404, Marseille, France with Leiya
23 May 2019 Thu. - Le102, Grenoble, France with Leiya
25 May 2019 Sat. - La Demeure du Chaos - The Abode of Chaos, Lyon, France with Leiya
29 May 2019 Wed. – URGENCE DISK RECORDS, Geneva, Switzerland
6 Jun 2019 Thu. – Le Zorba, Paris, France
8 Jun 2019 Sat. – Chez Adel, Paris, France
9 Jun 2019 Sun. – Centre Culturel Libertaire (CCL), Lille, France
12 Jun 2019 Wed. - BASTION, Bochum, Germany
13 Jun 2019 Thu. - Internet Explorer, Berlin, Germany
14 Jun 2019 Fri. - KUZE, Potsdam, Germany
15 Jun 2019 Sat. - "NOISEFEST" ZXRX, Leipzig, Germany
18 Jun 2019 Tue. - Loophole, Berlin, Germany
21 Jun 2019 Fri. - West Garmany, Berlin, Germany
22 Jun 2019 Sat. – the UAP (Fine Art University), Poznan, Poland feat. Zofia Tomczyk
26 Jun 2019 Wed. – Amore del Tropico, Poznan, Poland
28 Jun 2019 Fri. – MÓZG, Bydgoszcz, Poland
6 Jul 2019 Sat. - Przychodnia Squat, Warsaw, Poland
7 Jul 2019 Sun. - Osobliwy Poniedziałek, Kraków, Poland
9 Jul 2019 Tue. - Grund Pinceszínház, Miskoic, Hungary
12 Jul 2019 Fri. - Nord Tattooing, Belluno, Italy
13 Jul 2019 Sat. - IKIGAI, Bologna, Italy
14 Jul 2019 Sun. - Villa, Brescia, Italy
17 Jul 2019 Wed. - Macao, Milano, Italy
19 Jul 2019 Fri. - ″Re:flexions / sound-art festival 2019″ Kulturhaus abraxas, Augsburg, Germany - Collaborate with Re-Drum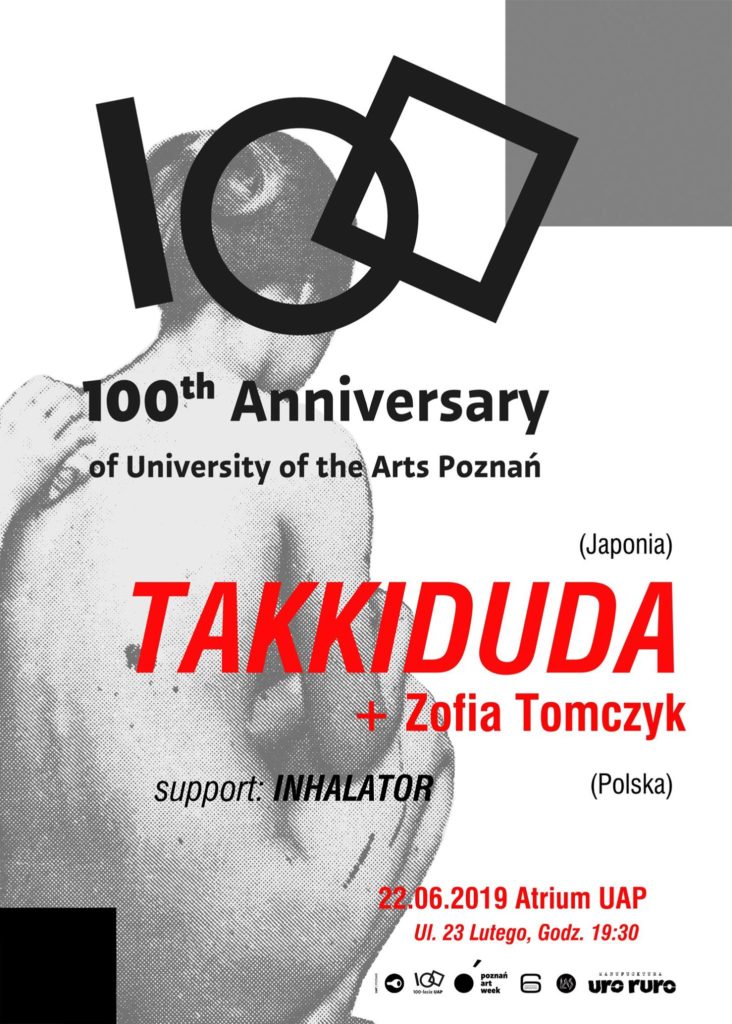 https://www.facebook.com/events/2261346844077919/

Takkiduda
Takkiduda / Japonia, Tokio / nagrywa różne dźwięki w czasie rzeczywistym i tworzy muzykę poprzez improwizację i nawarstwianie dźwięków. "Miksujemy muzykę, wyświetlamy obrazy i improwizujemy w tańcu. Wykorzystujemy głos, gitarę elektryczną, syntezator, laptopa, melodykę, małe instrumenty muzyczne, zabawki, otaczające nas dźwięki oraz dźwięki natury i wiele więcej."
Podczas tegorocznej trasy po Europie grupa odwiedzi Austrię, Francję, Niemcy, Polskę, Szwajcarię oraz Włochy.
https://www.youtube.com/watch?v=zZytw68UQjY
http://takkiduda.com/about/
Zofia Tomczyk / pochodzi z Poznania, obecnie mieszka na Islandii i podróżuje. Studentka kierunku Master in Performing Arts na Uniwersytecie Artystycznym w Reykjaviku. Głównie improwizuje. Działa w obszarze ruchu i dźwięku. Od 4 lat pracuje ze snami jako materiałem twórczym.

https://www.youtube.com/watch?v=dUBDTAwiIXE
https://cichenagrania.bandcamp.com/album/wracanie-do-siebie-cn02
Inhalator tworzą Albert Tyrała oraz Dariusz Franek.
Ich drugi program "Wiele jest warstw" będzie miał swoją premierę właśnie 22 czerwca.
Grupa wykracza po za kanon muzyki poetyckiej.
Nowy materiał tworzony jest przy udziale Radosława Włodarskego w oparciu o własne teksty, gitarę akustyczną i akcenty psychodeliczne.


https://uroruro-manufucktura.bandcamp.com/album/inhalator-nie-b-dzie-ofiar
La Demeure du Chaos
https://www.facebook.com/events/459976761429136/
Takkiduda & Emmanuelle Matsumura (Leiya Danse) seront à La Demeure du Chaos - The Abode of Chaos ce samedi 25 mai 2019 pour une performance entre danse butō et set musical improvisé...
"Electro-Urban-Noise : Performances et gestuelles du "butô" illustrées par une projection vidéo, le tout accompagné par des sonorités électroniques et de loops guitare, flûte et chants traditionnels japonais"
- Dam Von Smock
Petit rappel : l'entrée à La Demeure du Chaos - The Abode of Chaos est libre et gratuite, il en va de même pour la perf de Takkiduda & Emmanuelle Matsumura ce samedi 25 mai 2019 qui s'étalera en deux parties de 14h30 à 18h30
---
Pour ceux qui ne pourront pas être à La Demeure du Chaos - The Abode of Chaos le 25 mai 2019, la troupe sera chez nos amis d'URGENCE DISK RECORDS le mercredi 29 mai 2019
--> Takkiduda / Tokyo / urban electro perfo
---
Emmanuelle Matsumura (Leiya Danse) est danseuse comédienne et thérapeute énergétique. Sa démarche est d'exprimer le mouvement de vie spontané sous toutes ses formes et d'harmoniser les 5 éléments dans les corps intégrés dans l'univers qui interagissent avec un environnement. Avec divers médias, elle expérimente l'expression de l'invisible, du sensible. Elle explore l'espace hors du temps, vide et plein, la nature et son fonctionnement, les interconnections, être acteur ou observateur, les transformations… Ses influences sont nombreuses et inspirée d'année de voyage par delà les peuples du monde (danse contemporaine, danse traditionnelles du monde, butoh, mime, théâtre).
---
Takkiduda -タッキドゥーダ-
The meaning of "Takkiduda" is the power of the universe's love, which evolves and leads everything to happiness.
We can just look forward and recognize that every single thing happening to us is happiness. We aim the coexistence with nature, civilization and machinery in a better balance.
Our performance is absolute improvisation such as most primitive style. We make our sounds based on the animal instinct of the natural human beings.
"Quruku" and "Ico" are imaginary performers, who are created by our programming. They record and reproduce sounds freely away from human intention. By joining them our music becomes more accidental and full of uncertainties.
Not only the music, we display digital images also impromptu besides the sounds to make our performance more impressive.
We try to create a work with the viewpoint of "experience of space". We try to express with our performance the peaceful world filled of love with coexisting nature, civilization and machinery.


http://takkiduda.com/
https://soundcloud.com/takkiduda/the-waggon
https://www.youtube.com/channel/UCFCFY3rG3SzmMTTYOz21gkA
Vortex Art Festival 森羅万象~Sinra Bansho~@Le102 Grenoble

https://www.facebook.com/events/405282200310423/
23/Mai/2019 / 20:00-23:00 / 8€
VALUNA presente Vortex Art Festival 森羅万象~Sinra Bansho~
au Le 102 / Grenoble https://le102.net/
Nori Ubukata / Thereministe (Gr)
http://www.ubuman.com
http://soundcloud.com/nori-ubukata
*acommpagnement NaotovavaK (valuna) / Tabla
Takkiduda / Experimental Noise (Jp)
http://takkiduda.com
https://youtu.be/qJ16Ux2RjLI
Leiya / Danse (Fr & Jp)
https://www.shupi.co/works
http://emmanuellevalette.com/
VALUNA vortex-art-experience. / Butoh, Tabla, Kalimba etc.& FX (Gr)
https://www.facebook.com/NAOTOVAVAKandSOLUNADECOCK/
(13.mai. DETAIL updated.)
Asile 404

https://www.facebook.com/events/478931869515356/
MINISTRIE #00
◣◥◤◢◣◥◤◢◣◥◤◢◣◥◤◢
‡ Alex Riva - suisse
[harsh flûte]

https://alexriva.noblogs.org/solo/
‡ Takidduda - Japan
[neo folk electro]
Euro tour 2019

Collaborate with Leiya (Emmanuelle Matsumura) https://emmanuellevalette.com
Takkiduda plays music in improvisation/experimental. At the same time the video is projected.

- Video.-
https://www.youtube.com/watch?v=FJGd1HUMn_Q
- HP.-
takkiduda.com
‡ Geriatrie - Marseille
[punk xp noise]

https://m.facebook.com/xgeriatriex/
‡ Boucan - Lyon
[duo math punk]

https://boucanduo.bandcamp.com/releases
+surprise(S)
◣◥◤◢◣◥◤◢◣◥◤◢◣◥◤◢
PAF : 5€ si tu peux + adh libre
Start : 20h30
Asile 404
135 Rue d'aubagne
https://www.facebook.com/events/546880775718594/
Process musique et danse :
Pour la venue très exceptionnelle du groupe Takkiduda en France à Montpellier, j'organise une rencontre de musiciens locaux et d'artistes.
Les ambiances de la relaxation musicale, à l'apéro convivial avec ambiance groovy en passant par la danse et une ambiance envoûtante propre au groupe japonais nous accompagneront dans un voyage sonore et visuel qui invite au mouvement intérieur, au rêve et à l'expression par la danse.
La rencontre exceptionnelle et inédite de ces artistes se fait en public. Tout est improvisé. Pour la fête de la danse, événement mondial, le corps sera relâché, choyé, nourrit, caressé de sons, invité à danser suave, groove et peut être déchaîné...
Le prix d'accès est de 15€ et comprend une part de tarte et un jus de fruit maisons, ainsi que les 5 h de concert.
Il est possible d'entrer ou sortir en cours de route.
Adresse communiquée en MP.
3 danseurs accompagneront cette performance par moment et les films de mes performances de cette année seront en partie projetés.
Artistes:
Takkiduda, Georges Crébassa, Bass Dramé, Amandine Dubreuil, Leiya Danse, Marie Saurat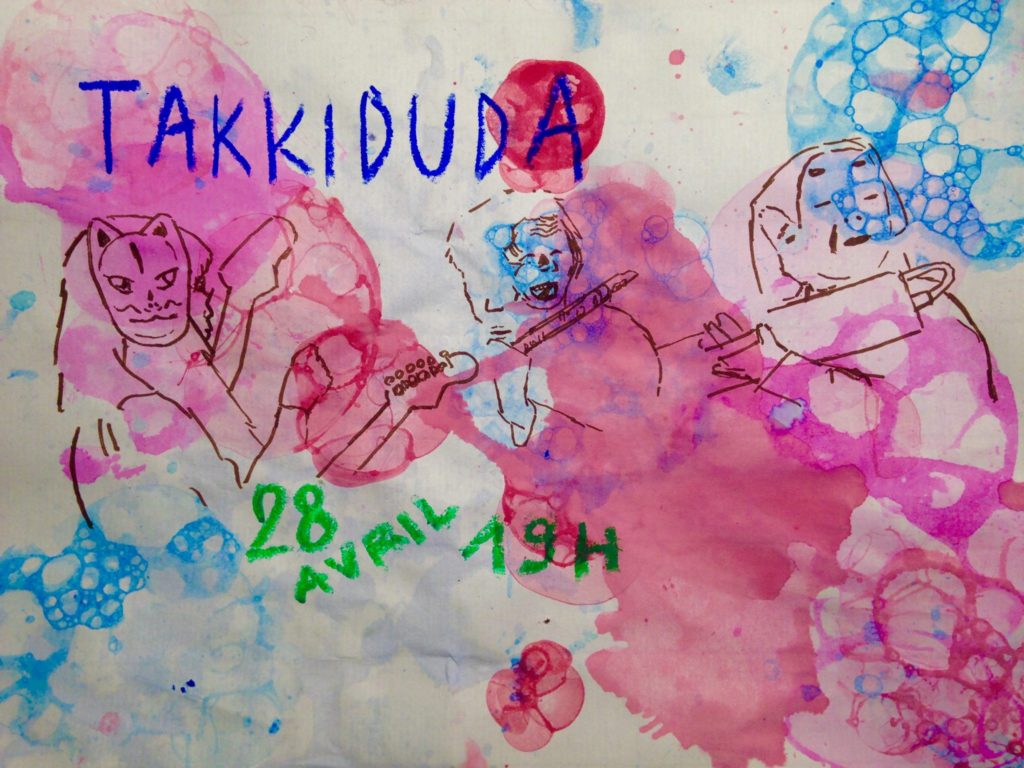 https://www.facebook.com/events/271960640216809/

Dans un lieu privé proche du Corum
Adresse sur demande

Collaborate with Leiya (Emmanuelle Matsumura) https://emmanuellevalette.com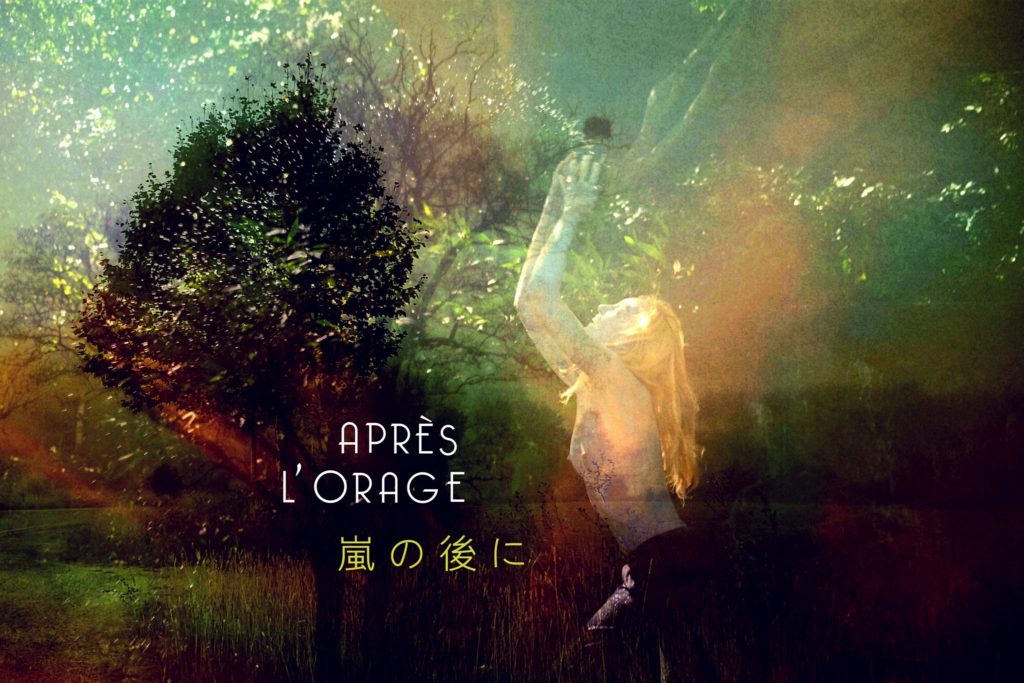 Après L'orage
嵐の後に
https://www.facebook.com/events/2301800740044751/
Haïku :
Après l'Orage
Eviter toute Catastrophe
Epouser la Terre...
La Compagnie Arte Vivi présente un spectacle performatif
Le 27 avril à 15h Maison pour tous George Sand - Studio Dupont
Conception artistique: Marie Sauratt
Création collective: Emmanuelle Valette-Matsumura Leiya Danse, Bernal Sabah, Norihiko Nakamura, Marie
Saurat
Musique : Saori Taji, Kazuhide Taji, Naoshi Matsumura, Georges Crébassa
Lumières : Leyssene Marie-Edith
Synopsis :
Raconter ensemble, français et japonais, en corps à corps, en mouvement, en voix, en musique et en arts visuels…
Le typhon passé, après l'orage, nous faisons le choix de ne pas éviter mais de regarder la réalité de ce qui se passe en nous, autour de nous et sur la planète, sans filtre.
Des êtres singuliers errent, s'ignorent, et se retrouvent dans les gestes. Le butoh, le théâtre kabuki et la danse contemporaine dialoguent avec la musique live et improvisée…
Nous apportons chacun notre touche à ce tableau qui se construit.
Plonger dans l'oeil du trou noir, dans cette énergie du changement, comme un acte de courage, d'abandon et
d'amour. Le chant, les corps créent un lien, ils plongent ensemble dans leur nature vraie…
Au cœur, sans plus attendre, la lumière peut se déployer, l'humanité est là.
On est touché, on se sent uni, et on oublie nos différences dans l'éprouvé des corps, dans la sensualité qui émane de la vie même, et de son expression.
Après l'orage, quand les
pensées s'arrêtent et que notre nature se révèle, on n'a plus rien à éviter : On peut juste être soi.
Remerciements : Cie Didier Théron, Salle L'Archipel Montpellier, Festival « Je t'aime la Terre, je danse pour toi » 2018, Montpellier,
Salle Next Sunday Tokyo Japon, Patrice Usseglio- Cie Lips
Partenaires : Art Scenic Jeju Corée du Sud, Cie Otomi Namaste Tokyo Japon, Groupe
Takkiduda Uenohara Japon
Tout public
Entrée libre sur réservation
Info et réservation : 04 67 79 22 18
Crédit photographique de l'affiche: Eric Blanc

俳優、パフォーマー。1985年8月25日生まれ、A型乙女座。早稲田大学教育学部在学中より演劇を始める。舞台を中心に演劇活動を行う他、パフォーマーとしては一人芝居(コント)、インプロ、ダンスパフォーマンス等多彩なレパートリーを保持。既存の芸術ジャンルを越境・逸脱しつつも芸術表現における原始的な楽しさや気品を失わないような作品づくりを信条として、国内外でパフォーマンス活動を続けている。
Naoshi Matsumura (https://www.shupi.co/works)
He started music activities at the dawn of rave party on the East Coast in United States in 1994. Under the name of DJ NaosisoaN, receive high praise in a borderless play style that melts the sound in time and space, centering on Ambient / Electronica / Chill Out.
After returning Japan, he participated in iimprovisation Ambient Unit called "Utsuroi no Matataki". They had been around the country with festivals, parties, and etc…
In recent years, he mainly works on collaborating with visual artists and space decorative lighting artists providing music to video works and art installations.
For composing and gigs, he mainly uses synthesizers (modular/analogue/digital), computers, crystal bowls, tuning forks, and field recording sounds.
He is also djing as resident DJ at bio market in his home town called ''Fujino'' experimenting and practicing alternative life.
音作家/DJ/プロデューサー 松村尚志
Sound Artist/DJ/Producer Naoshi Matsumura です。そして昔からNaosisoaNという名義でチルアウト/アンビエントのDJをやっている。