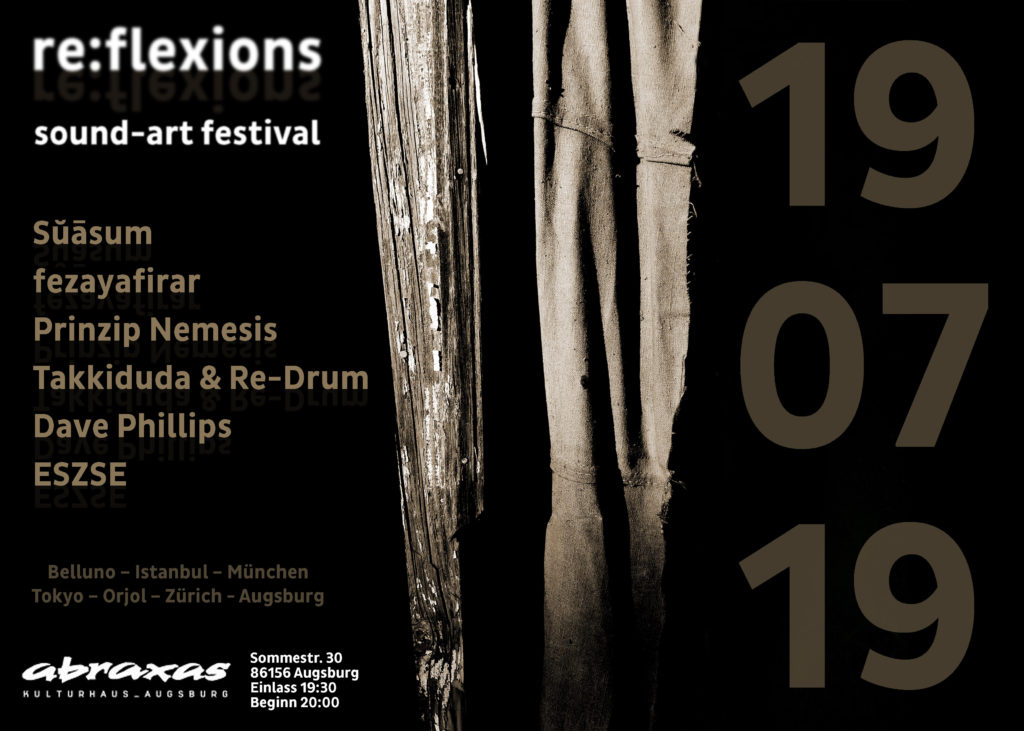 Re:flexions / sound-art festival 2019
präsentiert von attenuation circuit:

https://www.facebook.com/events/286219295425810/
Kulturhaus abrahttps://www.facebook.com/Kulturhausabraxas/xas
Freitag, 19.07.18
Einlass/doors: 19:30
Beginn/start: 20:00 (pünktlich!/on time!)
Kulturhaus abraxas
Sommestr. 30, 86156 Augsburg
Eintritt / admission: € 20
ermässigt / reduced: € 10
(Schüler, Studenten, Behinderte - gegen Vorlage Ausweis)
Kultursozialticket: € 1 (nur Restkarten)
www.abraxas.augsburg.de
www.attenuationcircuit.de
www.emerge.bandcamp.com
https://reflexionsac.wordpress.com/
https://www.facebook.com/reflexionsac/
13.6.2019
-Internet Explorer-
Brabrabra
Albertine Sarges & the Sticky Fingers
Takkiduda
俳優、パフォーマー。1985年8月25日生まれ、A型乙女座。早稲田大学教育学部在学中より演劇を始める。舞台を中心に演劇活動を行う他、パフォーマーとしては一人芝居(コント)、インプロ、ダンスパフォーマンス等多彩なレパートリーを保持。既存の芸術ジャンルを越境・逸脱しつつも芸術表現における原始的な楽しさや気品を失わないような作品づくりを信条として、国内外でパフォーマンス活動を続けている。
Naoshi Matsumura (https://www.shupi.co/works)
He started music activities at the dawn of rave party on the East Coast in United States in 1994. Under the name of DJ NaosisoaN, receive high praise in a borderless play style that melts the sound in time and space, centering on Ambient / Electronica / Chill Out.
After returning Japan, he participated in iimprovisation Ambient Unit called "Utsuroi no Matataki". They had been around the country with festivals, parties, and etc…
In recent years, he mainly works on collaborating with visual artists and space decorative lighting artists providing music to video works and art installations.
For composing and gigs, he mainly uses synthesizers (modular/analogue/digital), computers, crystal bowls, tuning forks, and field recording sounds.
He is also djing as resident DJ at bio market in his home town called ''Fujino'' experimenting and practicing alternative life.
音作家/DJ/プロデューサー 松村尚志
Sound Artist/DJ/Producer Naoshi Matsumura です。そして昔からNaosisoaNという名義でチルアウト/アンビエントのDJをやっている。
Emmanuelle Valette-Matsumura (http://emmanuellevalette.com)
She is a choreographic artist and energy therapist. Her approach is to express the movement of life in all its forms and to harmonize the 5 elements in the body that interacts with an environment and integrated into the universe. She experiments and researches the expression of the invisible and the sensitive, to mobilize the senses and to transcend emotions, and those with various media (movement, sensation, images, painting, photo, materials, memories). She runs the company Otomi Namaste which offers healing, personal development and dance and meditation workshops. She performs regularly on the Tokyo experimental scene, in festivals with her group "organic dance tribe" or other collectives of artists (fire dance, butoh, musicians, calligraphy).